AS-31 ENGRAVED IDENTIFICATION ALUMINUM LABELS AND TAGS
We offer you a selection of high quality engraved ALUMINIUM nameplate and identification plate.
Delivery time
0 - 0 workdays
AS-31 ENGRAVED IDENTIFICATION ALUMINUM LABELS AND TAGS OFFER REQUEST
Wide range of standard and customiced labels and tags made of aluminum. Process labeling.
GENERAL DESCRIPTION
Legible marking of various parts of installations is a very important factor, which above all guarantees safety at work. It also makes any movement around the installation and its operation much easier.
The most common way of marking industrial fittings and equipment is the placing of identification plates with the appropriate description of the given element directly on it or somewhere near it.
Our identification plates are produced in four basic types depending on the used materials: AS-30 (plastic laminates), AS-31 (aluminum), AS-32 (stainless steel) and AS-33 (brass). The materials are selected taking under consideration the required temperature, weather, chemical or UV resistance.
The identification plates are manufactured using the following production methods: laser engraving, mechanical engraving, UV printing and painting used in combination with mechanical engraving.
Experience of many years alongside the latest technologies allow us to supply identification plates of the highest quality while catering to Customer needs and designs as well as maintaining a short delivery date.
ALUMINUM IDENTIFICATION PLATES
Identification plate made from printed or engraved aluminum is very popular solution. The plates are corrosion and salt water resistant. They are also cheaper than stainless steel plates. Robust plates have a good looking, which is the another advantage of aluminum.
MATERIALS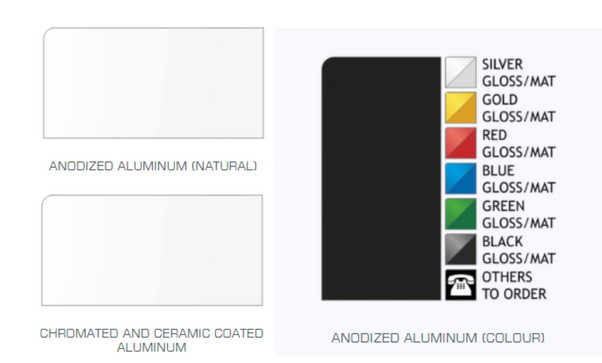 PROPERTIES
Product code: AS-31/L
Temperature range: -40°C / +450°C
Chemical resistance: GOOD
Corrosion resistance: GOOD
Salt water resistance: GOOD
Product code: AS-31/MP
Temperature range: -30°C / +180°C
Chemical resistance: GOOD
Corrosion resistance: GOOD
Salt water resistance: GOOD
Product code: AS-31/UV
Temperature range: -30°C / +210°C
Chemical resistance: GOOD
Corrosion resistance: GOOD
Salt water resistance: GOOD
TYPES OF MATERIALS & PRODUCTION TECHNOLOGY AS-31 ALUMINIUM
Product code: AS-31/L
Material type: anodized (various colours)
Available thickness (mm): 0,5; 1,5; 2,0
Production technology: laser engraving
Product code: AS-31/MP
Material type: anodized (natural)
Available thickness (mm): 0,5; 1,5; 2,0
Production technology: mechanical engraving + painting
Product code: AS-31/UV
Material type: Chromated and ceramic coated (white)
Available thickness (mm): 1,2
Production technology: UV printing